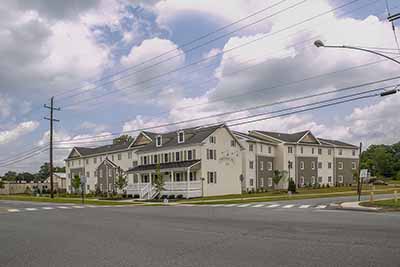 There is a great need for veterans' housing nationally.  Tens of thousands of veterans are homeless and live out on the street.  In Chester County the problem is exacerbated by high housing costs.  Even with assistance, many residents cannot afford a one bedroom apartment.
The Housing Authority of Chester County worked with affordable housing developer Mission First to construct affordable housing for veterans in Spring City.  Anchoring the project is a historic inn that was built in the 1700's.  The structure had fallen into disrepair at the time it was acquired for the Whitehall project.  It eventually was restored and expanded.  The current development contains 48 affordable 1, 2 and 3 bedroom housing units for veterans.
The historic inn has been integrated into the development and residents can enjoy socialization, support services and recreational activities.  Amenities include a community room, computer room, library and fitness center.  On staff is a full-time Residential Services Coordinator who provides individualized case coordination of services and an array of programs.
The property is managed by Mission First Housing Group located in Philadelphia, PA.