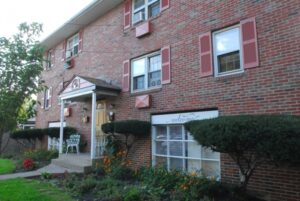 Homes for Adults with Mental Health and Mental Disabilities. Donna Mengel is the founder and owner of Lamb Foundation, a nonprofit organization that provides homes to 175 individuals who have low to moderate incomes. Ms. Mengel rents the homes she buys to the Lamb Foundation. In turn, Lamb Foundation rents the homes to individuals, who have mental health or mental disabilities. Lamb offices are located on Main Street in North Wales, Montgomery County, Pa., and the organization raises funds through the nearby Sweet Repeats Thrift Shop and its sister business on eBay, Sweet-E-Repeats. Lamb has received many loans for building in North Wales including loans for:
Four houses used as homes for Lamb residents.
A single family home to be converted into 2 residential units, providing housing for 8 residents.
A residential duplex to provide housing for 8 residents.
A 6 unit residential apartment building that will eventually house 16 residents.